-I've mentioned my
LOVE
of all things coffee related. I am becoming quite the Barista. I haven't been able to make designs in the froth just yet. This morning I created the perfect cup of Joe. It was not only beautiful but it was absolutely delish. This is my perfect cinnamon dolce latte: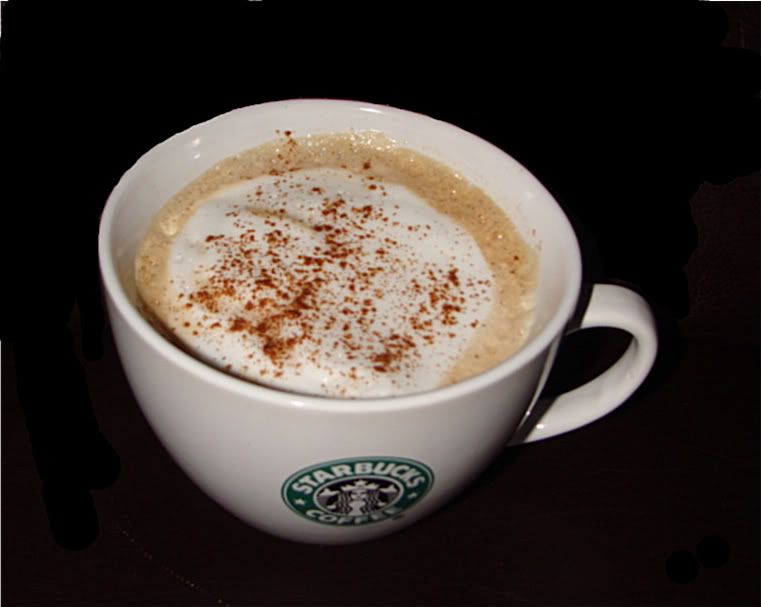 -Graham apparently has a bug. We were all getting ready for church this morning when he slowly made his way downstairs covered in a mysterious brown substance. Once he was within sniffing distance it was clear the poor kid was sick in the night. Jared took the older three and the babies and I stayed home. I was so close to being caught up on laundry. So close...
-My Birthday is Thursday! I'll be 33 and I'm super excited! I love birthdays. What a fun celebration of life. We are entering the birthday season here at the Altic household. We have 4 within 9 weeks. First Me on the 4th, Anneliese on the 12th, Graham (& Aunt Erin) on the 16th, and the Elijah April 28th. In order to write out all the Aunts, Uncles, and Cousins that fall into the same time frame would take a blog all it's own. The kids are giddy about all the cake in their near future :)
-Grandma and Grandpa Altic are taking the brood overnight Wednesday night. Anita made the comment to Tanner that he had a standing invitation so he took her up on it. I always tell the kids that they can't just invite themselves over to people's homes. They have to be invited and apparently he found a way around it at least at Grandma's :). Jared and I are planning a date day for my birthday. There will definitely be some
BD's
in our future (LOVE THAT PLACE). We won't know what to do with ourselves without a single baby!
-A quick update on the "
Seems Appropriate
" blog. I received a phone call from Nationwide on Friday letting me know that the underwriter
will not
write a policy for us unless we can prove the water damage in the kitchen "wasn't your fault." I was a little testy (not proud of that) with the gal and asked, "Do you really think I flooded my own kitchen?!" So I put a call into State Farm (our current policy holder that are big jerks for dropping us) and asked for some form of proof that we indeed did not purposefully flood our kitchen. I'm sure they will eagerly and promptly send us all we need since they have absolutely nothing to gain for their troubles. Ugh, This is bigger than I am so to my knees I go! God is in control.
-"My God is so strong, so big and so mighty there's nothing my God can not do" (Veggie Tales). Jared and I had the daunting task of paying car tags this month. It was $596.97 for the two vans combined. This figure was a bit of a shock since this is our first year without the '94 Honda Accord. Having two nice vehicles is a blessing except for tag season. As February approached I decided
not
to panic but just trust God would provide as He always does. As the month wore on He provided $440 extra (not part of our normal budget) through a few different means. I was able to go Friday and purchase our very expensive tiny little stickers without selling a child. Thank you Lord for your provision!