Two years ago a precious family in our church gifted us a new table and chairs. We were about to expand to a family of 7 and this set had 8 chairs. They wanted us to all be able to sit at the table together as a family *insert ahhhh here* It is solid oak, no veneer or particle board, and a beautiful set.
It's blond or light oak. When originally received it I planned to refinish it somehow to make it match better but once the
kitchen redecorating
was completed the light stain of the table and chairs actually fit. There's a lot of yellow hues in the design and with the new darker floors I felt comfortable leaving the table and chairs.
Now it's been two years of homeschooling, cards, and kids and the table top needs refinishing. After working on the
Coker's Chairs
I started thinking about it again.
This is my china hutch. It's a traditional medium oak stain.
This is the kitchen table with 4 (of 8) chairs and the w/o the 2 leaves.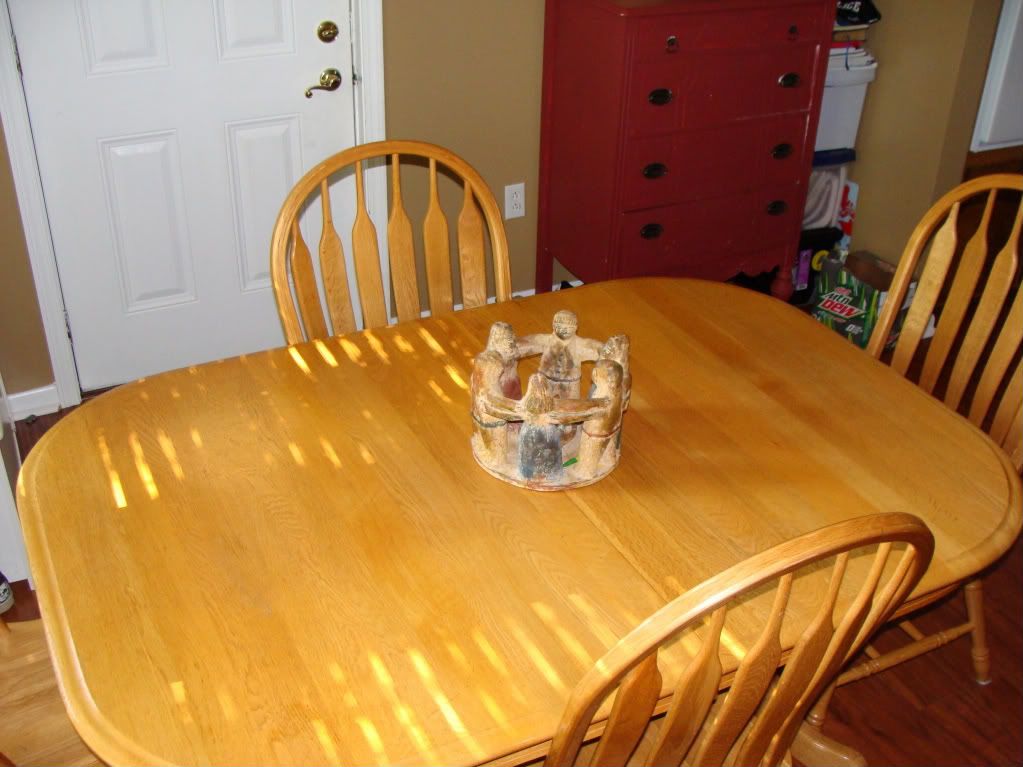 My idea is to paint the base of the table, which consists of two pedestals and a decorative set of rungs in between, black. Then strip and refinish the table top and 2 leaves the same medium oak of the hutch.
In order to make the hutch match I'm planning to paint the upper crown molding, middle molding (where the top and bottom pieces meet) and possible the bottom trim also black.
Then painstakingly sand and paint each chair black to match.
Here's my question...My kitchen and dining space are decent sized but not huge. Will painting these pieces shrink my space due to how dark it will be? There is a lot of natural light due to the large windows in the dining room.
As you can imagine this will be a rather large undertaking and I want to make sure I'll be in LOVE with it before I undergo the process. This is the season to do such a project since a lot of it can be done outside. This table and chairs cost thousands when new. It's a quality set that shouldn't be tossed due to the stain color not being "in" anymore.
But
is black still "in" enough to warrant such a tedious task?
BTW I just found a
company
in KC that redoes dining sets and would charge a mere $500 to refinish the table and chairs...YIKES! That doesn't even take the hutch into consideration. See what a little elbow grease and time is worth people?!
I'm super curious what your thoughts are....